Texas Roadhouse Gift Card Fundraiser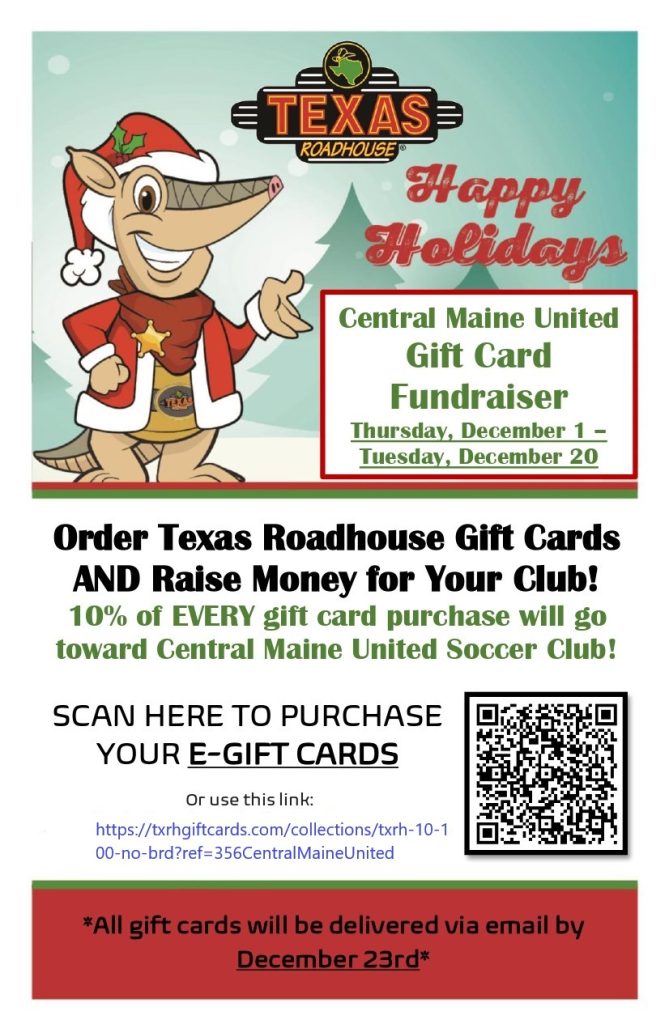 Central Maine United and Texas Roadhouse are partnering up again. Just scan the QR code on the flyer above or visit https://txrhgiftcards.com/collections/txrh-10-100-no-brd?ref=356CentralMaineUnited anytime between now and December 20th, to purchase an e-gift certificate. With every e-gift certificate purchase, CMU will get 10%!  Please be aware that the e-gift cards do not get sent to the purchaser until 3 days after the fundraiser ends (send out date of December 23), so everyone would receive their gift cards before Christmas. 
Any player who sells $100 in gift cards will get a free dessert at Roadhouse, and the top gift card seller would win free roadhouse for a year, so be sure to fill in your players name when asked!
---
2022/2023 CMU Premier Teams
CMU Premier Club Tryouts:
If your child has Premier experience or has performed well at Travel and is ready to compete at the highest state level, come join our rapidly expanding Spring club. We are a non-profit organization that focuses on providing a high-quality program at affordable rates. We are excited to continue our growing partnerships with All Pro Sports Center, The Pitch, and Thomas College. CMU trains at the absolute BEST facilities in Maine, All Pro Sports Center in Waterville and The Pitch in Warren during the Winter months and Thomas College turf fields in the Spring, to provide our players the opportunity for exposure and development through these great partnerships.
2022-23 Premier Tryouts have been completed. There may still be spots available on select teams. We will be holding supplemental tryouts during the first two Saturdays of November. If you are interested in attending, please register on our Prospective Player Registration Form.
2022-2023 Premier Season Outline
September-October: CMU Coaching staff will be attending your High School or Middle School games.
Indoor Winter Season (November – March): at All Pro Sports Center & The Pitch
12+ Saturday Indoor Team Training Sessions
12+ Weekday Foot Skills Training
Friendlies with other clubs
1-2 Pre-Season Tournaments
Outdoor Spring Season (April-June): at Thomas College Turf
2 training sessions per week
Maine State Premier League – 6 Sunday Game Schedule
2 Tournaments: Needham Memorial Day Tournament, and Seacoast Coastal Summer Challenge
Fees:
Fee for Premier Season $1,100*
$225 at registration
7 monthly auto payments starting in September
*Uniform kits are a separate cost for players
Winter Training and Spring Only options are available at Coaches/CMU Board discretion and team need.
Scholarships are available upon request, and reviewed for a financial need.