Central Maine United is announcing tryouts for the 2015/2016 Premier Soccer season. If your child has performed well at travel soccer, or has premier experience, and is ready to compete at the highest state level, please join our rapidly expanding spring club. We are a non-profit organization that focuses on providing a high quality program at affordable rates. We have partnered with All Pro Sports Center to offer the finest coaching and facilities for our premier players.
CMU will also be offering a U-11 Development Program for boys & girls. This program will develop players throughout the winter/spring & prepare them for soccer at the next level.
CMU PREMIER SEASON

Professional coaches:
All under the direction of Penny Stansfield – Director of Coaching
Indoor Season (Dec. through March):
Minimum of 10 Winter Indoor Training Sessions
Two sessions of Winter Indoor League
Outdoor Season March through June:
Weekly Practices
Maine Premier (or State Cup qualifying) League
State Cup League
Two major soccer tournaments:
Out of State Spring Tournament or Coastal Summer Challenge (to be decided
by coach)
Needham Memorial Day Tournament
Estimated Fee For Premier Season:
$900 plus Uniform fee (except returning players not needing uniform)
Central Maine United's U-11 Developmental Program
CMU would like to announce its new U-11 Developmental Program. This is a two part winter/spring program designed by our new DOC Penny Stansfield. Penny, originally from England, brings with her a USSF B license and a wealth of playing experience at Division 1 & semi-pro, as well as coaching experience at premier & high school levels, twice being named New York's Catholic High School Athletic Associations Coach of the Year.
CMU U-11 Developmental Indoor Winter Training Season January-March
The first part of this program will consist of 10 winter training sessions to be held at All Pro Sports Center on Saturdays during the months of January, February & March.
The sessions will be developed & coached by DOC Penny Stansfield with an occasional guest coach. Sessions will focus mainly on individual skill development. Each practice will break down the vital skills of passing, dribbling & striking the soccer ball. Players will work on defending, attacking & finishing as well as problem solving. Players will be introduced to all positions on a soccer field and be given the opportunity to experience playing them all. Conditioning will also be included. Soccer specific training will focus on speed, agility, endurance and quick reaction times.
Winter Training Season includes
Ten 1 hour  indoor winter training sessions
Any age appropriate or position specific clinics & footskills sessions offered by CMU at All Pro during indoor training season
Scrimmage/round robin arranged by coach
CMU Developmental Program t-shirt
Cost of program is approx. $275
CMU U-11 Developmental Outdoor Spring Travel Season March-June
The second part of the program will consist of a spring travel season. The CMU U-11 Developmental team will play up at U-12 during the Pine Tree League season.
The outdoor season includes
Weekly practice on Thomas turf field (overseen by Penny Stansfield)
Pine Tree League Season (6 Sunday travel games)
Coastal Summer Challenge (Father's Day weekend tournament in Brunswick)
Additional scrimmages as arranged by coaches
Cost of program is approx.  $225 plus uniform ($20 includes jersey, shorts & socks)
Age Groups For The 2015/2016 Season
U-12     8-1-03 to 7-31-04 U-13     8-1-02 to 7-31-03 U-14     8-1-01 to 7-31-02 U-15     8-1-00 to 7-31-01 U-16     8-1-99 to 7-31-00 U-17     8-1-98 to 7-31-99 U-18     8-1-97 to 7-31-98
2012 Coastal Summer Challenge Champions!!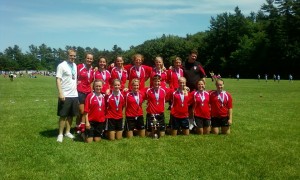 Conratulations to the CMU U-20 Women's team for winning the Women's Open Division at this year's Coastal Challenge. The girls went 2-0-1 in pool play and went on to beat Seacoast United Phantoms 2-0 in the finals. Well done ladies!!
2011 Season Highlights
3 CMU PREMIER TEAMS WIN THEIR DIVISION AT THE COASTAL SUMMER CHALLENGE!!
CMU U-13 Girls Win Coastal Summer Challenge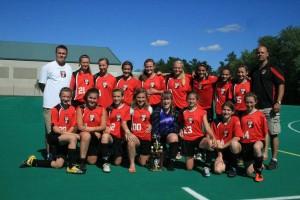 The CMU U-13 Girls Premier team went 3-0 in pool play then went on to beat Seacoast United-Maine 1-0 to win the championship! Congrats to the girls on a great weekend of soccer!!
CMU U-16 Boys Win Coastal Summer Challenge

The CMU U-16 Boys Premier team went 3-0-1 in pool play and went on to beat Seacoast United NH 4-0 to win the championship! Congrats to the boys!
CMU U-19 Girls Win Coastal Summer Challenge

The CMU U-19 Girls Premier Team beat Seacoast United Maine 2-1, tied Halifax Nova Scotia 2-2 and won 3-0 against Phenix Quebec to win the Women's Open Championship! Great job ladies!!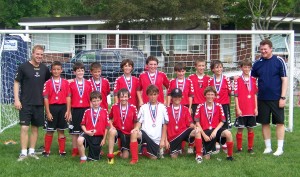 CMU U-12 BOYS TEAM WINS NEEDHAM TOURNAMENT
The CMU U-12 Premier Boys team went 3-0 in group play moving on to beat Nashua World Cup 3-0 in the semi-finals. The boys then went on to beat Needham NSC United 2-0 in the championship game. CMU scored 12 goals only conceding 1 throughout the 5 game weekend. Great job boys!