CMU UPDATE!!
Hello Players and Parents
Please remember we have our informational meetings Sunday 23rd October. Time below:
We know some of you have games so please do not worry!:) We shall send out what we discussed and add to the front page of this site! If you attended last week, no need to show up again!
CMU UPDATE!
Hello Players and Parents!
We hope your enjoying your fall soccer and as temperatures drop its time to think of winter training and spring soccer!
We shall be holding an informational meeting at All Pro Sports on Sunday the 23rd October. Please see below times for teams.
This is a brief meeting to go over the following: Registrations, Team age groups, Winter training, Uniforms, New Coaches, New Programs!
In addition we shall be holding supplemental tryouts for all ages in November and December (date to be announced soon! Please note our numbers are good so only a small amount of places are left!) Please feel free to spread the word! Any questions contact development@allprosoccer.com or Gary@allprosoccer.com
Team Times
HS Boys 9.00am
U16 Girls 9.20am
HS Girls 9.20am
U15 Girls 9.40am
U13 Girls 10.00am
U13 Boys 10.00am
Good luck for School & Travel Soccer
CMU wishes all School & Travel soccer players well for the upcoming season
CMU CLUB NIGHT – A GREAT SUCCESS
Parents and players were introduced to the new uniform from Hummel. The players shall be wearing the new team uniform next spring!
The CMU board and All Pro shared the soccer menu of what the players can expect from December onward's.
It was great to see the players and some parents try out the soccer target game and the global goal.
SIGN UP NOW FOR THE CMU PRE SEASON SOCCER CAMP – 25-29th JULY @ All Pro.
Places are now limited so register asap.
SUPPLEMENT PREMIER SOCCER TRYOUTS
ALL AGES U12-U18 SATURDAY JULY 16TH – 9-10.30 @ALL PRO
Please note HIGH SCHOOL tryout 9th July and 16th July 9-10.30 as posted
Thank you to all the players and parents who attended the CMU Premier Tryout, we shall be notifying all players at the latest 7th July regarding outcome.
All Tryouts hosted at All Pro
WE SHALL BE HOSTING A MEET AND GREET FOR ALL PLAYERS AND PARENTS ON THE 17TH JULY @ ALL PRO SPORTS AT 7PM – FURTHER INFORMATION SHALL BE EMAILED TO EACH PLAYER VERY SOON!!!       NOT TO BE MISSED!
NEW CONTACT INFORMATION
As of Wednesday 29th June 2016 if you require information regarding teams, training, training times and location, coaching and administration please contact;
* Loz Dorman – development@allprosoccer.com – 207-423-6779
* Gary Walker – gary@allprosoccer.com – 207-944-0393
* Please note we shall endeavor to respond to all emails and calls within 24 hours
If you have questions regarding fees, payments, uniforms please contact;
* centralmaineunitedsc.com
High School Tryouts – Important Information for boys and girls High School players. If you are born in the following years;
* 2001, 2000, 1999, 1998
We are holding tryouts on Saturday 9th July and Saturday 16th July @ All Pro Sports – Both days 9.00am – 10.30am
2016/2017 CMU Tryouts – 29th and 30th June 2016
Please click on the link to see the schedule for Tryouts at ALL PRO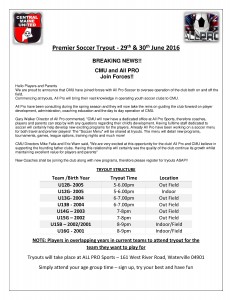 CMU AT NEEDHAM TOURNAMENT 2016!
Congratulations to the U12 Girls winning their division.
CMU teams competed very well and great soccer was played throughout the weekend!
Well done Coaches, players and parents! 
ANNOUNCEMENT!!!! 
It is with great pleasure we announce CMU's partnership with ALL PRO SOCCER.
Eric Warn VP of CMU Premier and Mike Falla, VP of Travel noted,  "We are very excited to partner with the experts at All Pro for the remainder of our 2016 season.  This is an excellent opportunity for our Central Maine soccer community for both Travel and Premier level players".
Gary Walker of All Pro Soccer & Sport commented," We are extremely excited to have this opportunity to act as consultants throughout the 2016 spring season for CMU."
You shall see the All Pro Staff at training and games as the review the structure on and off the field! Please say hello!
Exciting new programs and staff will be gearing up for try-outs and beyond!
 CMU 2016 Spring Season & Game Schedules
CMU has over 275 kids registered with 8 travel teams playing in the Pine Tree League as well as 7 premier teams and 3 high school teams playing in the MSPL for the Spring 2016 season. SoccerMaine has posted the MSPL & Pine Tree League schedules. Click on the links below to see your schedule.
Good luck to all CMU Premier & Spring Travel teams!!
Central Maine United Soccer Club 2016 Spring Travel Registration Is Now Closed Registration for CMU Spring Travel is now closed. There still may be room on some teams. If you have any questions, please contact Mike Falla at falla@gwi.net or Jesse Wechsler at jfwechsler@gmail.com. If you have registered for CMU you will soon be hearing from your coach.
Payment for spring travel can be mailed to:  38 Sterling St Waterville, ME 04901. Please make checks payable to CMU.
CMU Premier 2016
CMU will have the following premier teams :
U-12 Girls- Coaches Terri Dufour & Dick Reitchel
U-12 Boys- Coaches Ryan Loubier & Jarrod Carnrick
U-13 Girls – Coaches Chad Sisson & Eric Warn
U-14 Girls – Coaches Penny Stansfield & John DelGiudice
U-14 Boys – Coaches Darren Allen & Mike Boulet
U-17 Boys- Coach Jon Condon
U-18 Girls- Coaches Scott McCormac & Tom Lynch
Good luck to all of our teams in the 2016 season!